Boardgames publishing and distribution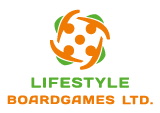 About us
Lifestyle Boardgames is one of leading Russian boardgame publishers, distributers and retailers. We also perform as a manufacturer with the factory located in Russia.
It all started in 2005 from a dream to create the games we would like to share with our friends and families. Today Lifestyle Boardgames is a team of more than 80 professionals who licensed and put on the Russian-speaking market over 500 games and successfully launched into international publishing with over 40 original titles. Our games are sold in more than 40 countries all over the world!
We earned a reputation for highly interactive mechanics, innovative components and careful selection of the most interesting concepts from both Russian and international authors. In 2020 our creative approach was highly regarded by one of the most prestigious awards Kinderspiel des Jahres for Hedgehog Roll. In 2021 our game Storytailors was also marked by nominating for Kinderspiel des Jahres.
Since last year, all publishing rights have been sold to Red Cat Games, and Lifestyle Boardgames remains focused only on the domestic market. Please see the full-catalog learn more about the products we represent on the Russian-speaking markets.
We are constantly raising the bar to bring thigh quality board games to entertain friends and families all around the world.