Boardgames publishing and distribution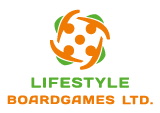 About us
Established in 2005 our company dived into the boardgames world in 2006 and since then has grown into one of the leaders on the Russian board game market. Today Lifestyle Group is a vertically integrated group of privately owned companies that cover all activities concerning boardgames — from game development and publishing to distribution and retail trade (including a fully owned chain of specialized stores). Created by two friends (who are still in charge :-) ),
Lifestyle is a team of more than 120 people. But no matter how fast we grow, our focus and passion always remains the same – the best boardgames for families and friends! We are not only board games experts but true boardgame fans at heart. Our mission is to select, develop, localize and deliver to our clients and partners only the boardgames that we believe are both entertaining and clever, game that bring people together around one table and make them play, talk, laugh and think together.
We started this company to supply our friends with games. Providing our partners and clients with friendly and helpful service remains the cornerstone of our work.