Distribution, production and wholesale Boardgames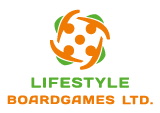 Escape from the Asylum
Year Published: 2019
You open your eyes and find yourself in a cold, padded cell. Unfortunately, this is not a dream: your own brother committed you to this hellhole of a psychiatric hospital. The betrayal stings, but there is no time for a breakdown. You need to get out, and you must do it fast. The plan seems simple enough: retrieve your personal file, find a place to hide before the night guard makes his rounds, and then find a way out. Escaping the asylum in time, however, won't be easy...
Key selling point:
A thrilling escape room experience: move through the rooms of the asylum and discover its secrets!
Strong story element: uncover the plot as you play along.
5 possible endings.
Co-operative gameplay.
Components:
23 mystery envelopes
69 hint & solution cards
189 number cards
5 meeples
Scoring sheets
Rules
Playing Time: 60-60 min
Age: from 12 years
Players: 1-6